Karachi is one of the highly populous cities of Pakistan. The ever growing crime rate has always concerned the citizens of this City. On Saturday, November 30, 2019, a heart wrenching incident took place, that is so devastating that has made every civilised families concern about the protection of their loved ones. A girl was abducted near a popular chai dhaba by four armed man in Karachi, and her friend who was accompanying the girl was shot and he is currently in facing a severe medical observation. The sister of Dua Mangni immediately reported the incident and spreaded the words through social media:

Everyone in Pakistan started sharing this disgrace incident and started showing support to her extended family.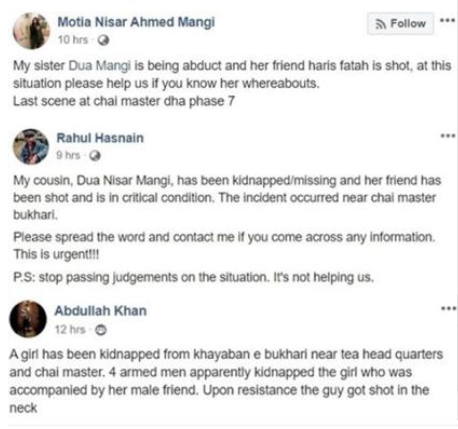 Reportedly, Sindh Inspector General of Police (IGP) Dr. Kaleem Aman has initiated the process and has also taken notice of the incident by demanding immediate report from the SSP South, Sheraz Nazeer. Meanwhile, few people also started to share disturbing comments on Social Media that made everyone furious. These hatred comments are somehow disturbing and inexplicable in a society that made readers nauseous and reflexively started to discourage such hateful mentality!
We are even startled by sharing these comments but it is really important to make sure that such absurd and disgraceful comments are brought up in front of the community so that such hatred is discourage by masses !